Eating with braces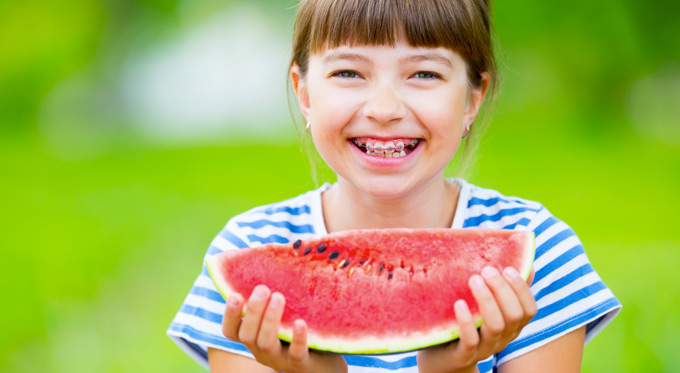 Although some patients may feel self-conscious about wearing braces, they don't impact too much on your lifestyle. The only changes you may need to make are to your diet as some foods can break or damage your braces. 
Here's a list of what you can and can't eat while wearing braces. 
What to eat and drink
Water is our drink of choice. Soft foods are the best type of food to eat while you're wearing braces:
Pasta, such as macaroni cheese
Scrambled eggs, omelettes or frittatas
Dairy products, such as yoghurt, cream cheese.
Soft fruit and vegetables - or cut them up into small pieces rather than biting into them
 What not to eat
You must avoid hard or sticky foods while you're wearing braces:
Hard lollies and sticky toffee
Crunchy or chewy bread, such as baguettes or pizza crusts
Corn on the cob - cut the corn off instead
Popcorn
Fizzy drinks
Make sure you don't chew your fingernails or bite on the end of your pen or pencil either as this can damage your braces too.