Invisalign at Scott Smith Orthodontics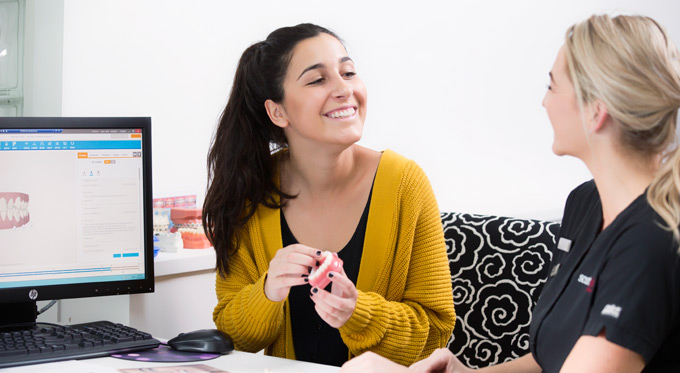 Often referred to as invisible braces, Invisalign has revolutionised the orthodontic treatment industry. Here at Scott Smith Orthodontics, we recommend Invisalign treatment to many of our patients for the great results it can achieve. 
What is Invisalign?
Invisalign is an orthodontic treatment method that uses clear, plastic aligners to move your teeth into position. There are no brackets, archwires or elastic bands - just two removable aligners which look like thin sports mouth guards. These are custom-made to fit over your top and bottom teeth. 
How does Invisalign work?
If you have Invisalign treatment, you will need to change your aligners periodically every 7-10 days as directed by Dental Monitoring app. This is to help encourage your teeth to move into position. Each set of aligners is custom-made but subtly different to help straighten your teeth. 
Benefits of Invisalign
The aligners are virtually invisible so most people won't even know you're having treatment unless you tell them.
The aligners are removable, so you can take them out for meals and special events.
Having removable aligners mean you can brush and floss as per normal, promoting healthy teeth and preventing gum disease.
The aligners are made from clear, medical-grade, plastic so there is no metal to cause abrasion to your mouth, gum or lips.
Before starting treatment you can view your own virtual 3D treatment plan which shows you what your teeth will look like at the end. 
Invisalign also works in conjunction with dental monitoring, the latest technology that makes having orthodontic treatment so easy. Simply download the app to your smartphone, upload photos of your teeth as per your orthodontist's instructions and we'll monitor your treatment progress. There's no need for you to book regular appointments to come in and see us! Find out more on our dental monitoring page.
Book your consultation today
To determine if Invisalign® is right for you, book your consultation today with one of our experienced Invisalign® Treatment Coordinators.